Speckled Shade

Speckled Woods chase each other on the quarry path which is now closing up to become a narrow green corridor as shoots of ivy and bramble from the fence on one side grow towards the hawthorn branches on the other.

Urns
Coffee time at my Mum's and, to keep cool, we're sitting in the hall with the front door open. I sketch this Victorian style urn, one of a pair on either side of the stone steps at the front of the house. It's an accurate reproduction of a period design but when our family moved here in the 1950s the original Victorian urns still stood here.

We referred to them as the egg cups (right): they were cast iron, painted white and each stood on a sandstone plinth, painted black.
One night during the 1960s thieves came into our garden, tipped out the plants and soil and made off with both urns. The next morning the police had a number of reports of similar thefts from around the neighbourhood. Victorian houses like ours had been targetted. Eventually detectives discovered that a gang were swooping on local towns, taking dozens of garden antiques, cleaning them up and shipping them to America. Police discovered and impounded a consignment that was awaiting shipment.
The successful conclusion of the case was celebrated by issuing a tie embroidered with an urn to the members of the team that tracked them down.
My Mum was looking forward to ours being returned in sand-blasted, freshly painted condition, but ours was one of those that didn't turn up.

The insurance money was welcome but the imitation basketwork white plastic planters that my Mum chose to replace them, though cheerful enough when filled with flowers, never had the cachet of the originals.

It wasn't until much later that she invested in the replicas.
If you're reading this in America, just take a look out of your window would you please? You can't by any chance see our urns?
Village Buildings of Britain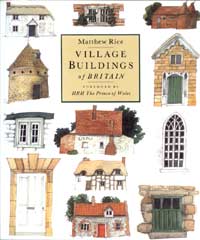 I'm reading Matthew Rice's Village Buildings of Britain. Arts Review describes his drawings as 'having more body than Hugh Casson, more line than Paul Hogarth.'
I met both those enthusiasts of drawing buildings when I was a student at the Royal College of Art in the 1970s and I'm sorry that I didn't learn more from them about their differing approaches to the subject.
As the Arts Review quote implies, Hugh Casson could tend to be rather light in touch in an elegant R.A. watercolourist way.
I wouldn't have said that Paul Hogarth was lacking in line but I feel that some of his work in the 1960s and 1970s suffered from taking on a strand of the international graphics style (gestural and leaning over backwards slightly) that was so fashionable in glossy magazines and colour supplements at the time. I love his early social realist pencil work and his later celebrations of buildings and their context but, his American glossies period; that I'm not so keen on.
Rooms for Improvement
Matthew Rice's pencil with light watercolour wash drawings are perfect for the story he's illustrating. His approach is summed up in his illustration of 'restoration' (below) in the introduction to his book. I'm so familiar with the 'over restored' look in example D and I can't help feeling that, if the owners of such buildings took a look at Rice's book and then took a look at the traditional buildings around them, we'd still have a lot more buildings like example A.

Here is a house in four stages of restoration. At each stage another vital part of the character of the building is lost in the interests of 'improvement'. Worse still, the owner is under the illusion that he has been responsible for a sympathetic conversion.
Illustration and caption © 1991 by Matthew Rice

Village Buildings isn't really a lament what we've lost: it's more a celebration of the character and regional variety of vernacular buildings in England, Wales and Scotland, which we still have in abundance. There's a useful visual glossary of architectural terms at the end of the book.
It's a measure of how inspiring the book is that I'm now itching to get out and draw some buildings in the manner of Matthew Rice. My sketch of the reproduction Victorian urn at my Mum's is a small start.
The urns may be gone but the knob on my Mum's front door looks as if it could be the original 1860s fitting.
Evening Shower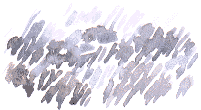 Such gentle rain and so welcome at the end of this sultry day. Barbara and I stand on the patio for a few moments to enjoy it.
'You haven't even got your shoes on!' she says.
'Do you wear your shoes when you get in the shower?'
It's a refreshing lukewarm sprinkling, accompanied by that delicious smell of rain slaking the accumulated warmth of the earth.

Related Link
Matthew Rice painter, designer and chicken keeper.
Richard Bell, richard@willowisland.co.uk