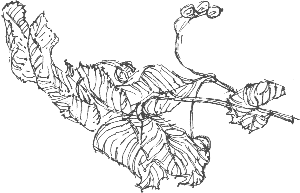 The whitebeam, Sorbus aria, is a small tree that is native of Britain but around here you're more likely to see it planted in parks, restoration schemes and in towns. The leaves have fine white down on the underside, which flashes conspicuously when the foliage is caught in a wind.
The largest fruit was just was beginning to turn colour, from green to scarlet.
Growing nearby, here in the crematorium grounds at Kettlethorpe near Wakefield, is a related species with lobed leaves, the Swedish whitebeam, Sorbus intermedia.

My brother had handed me this twig when he asked me what species it was. By the time it had been stuffed in my bag, then left sitting on my desk for a couple of days it had become curled at the edges.

I like to draw plants just as they appear in nature so usually a wilted specimen has no appeal for me however in this case it's the curled up leaves that make it such an appealling subject.
Richard Bell, richard@willowisland.co.uk