I thought that summer was lingering, now I realise that those house martins must have sensed the cool, wet, windy weather coming down from Scotland and, to keep ahead of it, they were gathering to head south before it arrived.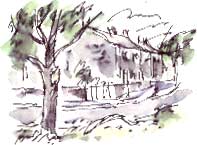 It's so much more like autumn with leaves scattered across the road but these are green leaves, torn early from the tree. With so many leaves still on the branches, large limbs have been blown down and, in Lupset, a suburb of Wakefield, the road was closed while a fallen tree was removed.

As I say, there are no longer house martins over the rooftops and the resident wood pigeons seem to be finding it difficult to fly a straight course in this wind.
I wrote yesterday that art pen and watercolours don't work well together. Today I thought I'd give it a try. The pen line runs into the colour.

Richard Bell, richard@willowisland.co.uk