Photography v. Drawing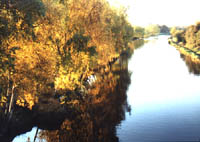 'I have just caught up with your ongoing diary,' writes a fellow nature diarist, 'I haven't visited for a while but it was nice to drop in and pick up some of the calm relaxed atmosphere that exudes from your notes and sketches. I am aware that it is something my photographic gallery and the nature notes are lacking, they lack soul and I wonder if it is something I can improve on. Your technique of recording nature through drawing captures the spirit or 'jizz' of the thing that a photo lacks, I feel slightly envious of someone who can do that.'
I'm glad my diary comes over as 'calm and relaxed' because I don't feel like that for much of the time, especially when I am unable to do much drawing, which is most of the time.
'Soul' v. Science
I feel that my drawing of part of the canal bank is a bit friendlier than my photograph of the same canal. A photograph represents a split second of time but a drawing implies that someone thought there was something about the scene that made it worth putting minutes, hours even, into recording it so, to that extent, my feelings about the place are that bit more obvious in the drawing.
On the other hand I don't think it's a good idea to burden natural history observations with too much soul and when I look at my friend's photographic natural history journal I think 'that's what I should be doing, something accurate and informative which doesn't get bogged down in personal feelings.
Frogs of the Forest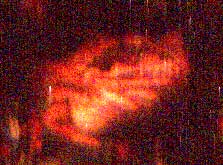 Last week wildlife photographer Geoff Trinder gave a talk to the Wakefield Naturalists' Society about his trip to Madagascar (and I must say straight away that that isn't one his photographs, right, his were much better than that!). He was in a group of 15 visiting some of the remaining forest areas of the island. Because of all the travelling time at each location was rather limited and so was the variety of wildlife it was possible to see. Madagascar has hundreds of species of frogs so when a new one turned up there was soon a queue of 15 waiting to take its photograph.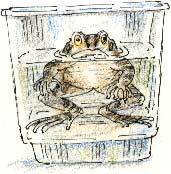 'I would have chosen a different angle,' said Geoff of several of the photographs, 'but there were several people still waiting behind me.'
And he remembered with irritation the member of the group who again and again spoiled things for everyone else by pushing to the front of the queue and scaring the creature away.
The Amateur Naturalist
I wouldn't like that experience of the forest. It's a good way to record as many species as possible but for me it's not a satisfying way of seeing.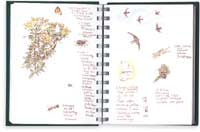 I remember Gerald Durrell in his Amateur Naturalist television series saying that the way he liked to see the creatures of the forest was to find a tree that was in fruit or flower and sit by it and just watch what came along. He wasn't the greatest artist but he got real pleasure from drawing the various creatures that appeared.
My frog (above, right) was just an ordinary common frog but this one climbed up into a cotoneaster bush behind the herb bed on a hot day and sat there as if it was a tree frog. This frog wasn't red, by the way, since I got this new computer there are lots of things that no longer work and the slide scanning option on my Canon scanner is just one of them.

Richard Bell, richard@willowisland.co.uk