Mozartblick

Friday 21st September 2001, Austria






This Month Rocks History Workshop Links Home Page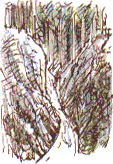 OUR LAST DAY and there's still time to fit in one of our favourite walks up the U-shaped Ellmau Valley to eat our favourite cheesecake in the garden of the Hochlackenhof guesthouse. There's no sign of the Willow Tits today which may now have picked every berry from the Yew bush in the garden (see Saturday 15th)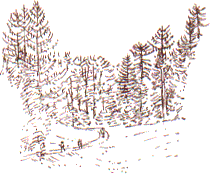 .

From the nearby viewpoint of Mozartblick we take another look down at St Gilgen at the head of Lake Wolfgang with the peak of Schafberg, now devoid of its snow cover, overlooking it.


Austrian Specialities
We've tried a variety of soups during this holiday; wild garlic, clear soup with strips of pancake, noodle soup, cream of garlic, carrot and celery, tomato, vegetable, potato, a sort of biscuity crouton soup and, a local staple, goulash soup.

Local dishes we've sampled include fillets of smoked trout and salmon trout, from fish farms by the lake, an Austrian version of potato gnocchi and an Austrian dumpling with chanterelles.

This being Austria there's a wonderful variety of bread and cakes available. I sketched the Ruming Mühle, a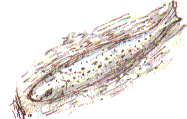 local watermill, as we sampled the rye bread and donuts prepared here in the traditional way. The mill is kept in working order. How did they manage, in the days when transport was by packhorse, for millstones in this valley surrounded by limestone hills? There doesn't seem to be any millstone grit nearby. Two discarded stones lying next to the kitchen are made of a limestone conglomerate; a rock that is a pudding-like mixture of pebbles and infill. I can't imagine that it would produce the finest of flour but at least it would never lose its 'tooth' as it wore down because of the varied textures in the conglomerate.


Three Peaks

This evening we decide on the Seerose (water lily) hotel overlooking the lake for a final meal. We finish with a local speciality; a soufflé which is known as a Salzburger Gnocken (I'm not sure about that spelling). You need to share it between two (or three ideally, unless you've just climbed a mountain). It's a melt-in-the-mouth soufflé prepared so that it rises into three peaks, to represent the three hills of the city of Salzburg. It's astonishing to see one brought to the table (they take 20 minutes to prepare) but on a previous evening we saw the same dish served, on a larger scale, to a party of Koreans. Soufflé for 30? - that's an amazing performance to carry off.

Related Link

The Seerose restaurant and hotel.




Richard Bell,
wildlife illustrator
E-mail; 'richard@willowisland.co.uk'

Next page Previous page This day last year This month Nature Diary Home Page