Eibensee

Wednesday 19th September 2001, Austria






This Month Rocks History Workshop Links Home Page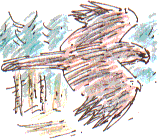 WE WALK up through the woods to Eibensee, a small lake hidden in the woods up in the hills to the east of Fuschl.

A Goshawk flies across in front of us at a junction of forest tracks. I've never seen one in the wild before but the buzzard-sized body along with wings that are more like those of a sparrowhawk in proportion, make it instantly recognisable. It's a bird of prey well suited to these woods of lofty pines. The soaring flight of the buzzard makes it better adapted for more open country. I imagine that this powerful-looking hawk could dodge and dive amongst the forest trees without difficulty, like a sparrowhawk patrolling our back garden with its smaller scale obstacles of shrubs and ornamental trees.

We notice several Wood Ant nests at the foot of conifers. The nests are domed, about a yard across and as much high. They are built up from conifer needles and other twiggy debris. After the recent cool weather there isn't much ant activity today.


Green Alder
| | |
| --- | --- |
| | As it gets warmer we sit on a bench overlooking the lake and I sketch this Green Alder growing at the water's edge. The leaves of our native Common Alder don't have that little pointed 'spout'. It grows in the alps and the south-eastern Europe. |
Southern Hawker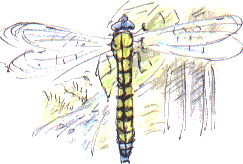 The sun brings out this large and colourful dragonfly, a male Southern Hawker, which rests sunning itself on a branch overhanging a stream alongside the forest track.


Café Flora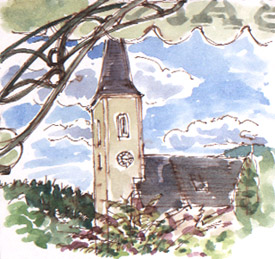 In Fuschl, sitting out for cakes and coffee at the Café Flora, under the now welcome shade of the awning, I sketch the church and a Buddleia bush that is attracting dozens of Red Admiral butterflies.



Richard Bell,
wildlife illustrator
E-mail; 'richard@willowisland.co.uk'

Next page Previous page This day last year This month Nature Diary Home Page