Return Flight

Saturday 22nd September 2001






This Month Rocks History Workshop Links Home Page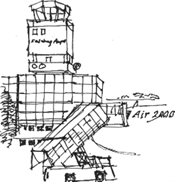 AS OUR 737 takes off from Salzburg airport we soon leave the city with its three hills (celebrated in last night's soufflé) behind us and get a view our whole holiday; the lakes Fuschl, Mondsee and Wolfgang, dominated by the peak of Shafberg. Even the castle hotel of Schloss Fuschl is just visible as a speck on a tiny promontory at the bottom end of the lake.




Then it's up through the clouds that this morning cover most of Europe and from 35,000 feet, through gaps in the cloud, we get glimpses of a great German river, which must be the Rhine. We cross Belgium near Brussels reaching a large estuary on the coast near Antwerp.



When we reach the south east coast of England we cross a few tidal creeks set at the edge of the ordered landscape. From this perspective the channels amongst the mudflats look like oriental brush drawings of a sinuous Chinese dragon or a twisted Japanese bonsai tree.

There's less woodland in England than there is in the parts of Germany we've been flying over. English fields seem to have a more irregular pattern, they're less strip-shaped than those in Germany.



Gee, but it's great to be back home
On our train journey back from the airport we see a Jay and Magpies amongst railside birches, buddleias and willows near Manchester Piccadilly. Near Stalybridge, a second jay flies over a stand of Himalayan Balsam as the train climbs up what, under today's skies, seems a brooding Pennine dale.

We've soon seen those common sights that make us feel that we are back home again; a pile of abandoned tyres on waste ground by a back street in Manchester, the inevitable mattress decorating an embankment and the most vacuous of graffiti.






Graffiti artists go for that overblown 'hey-you!-just-look-at-me' look which reminds me of flared trousers of the 1970s.

We've had a wonderful holiday. The peace of it should see us through a busy autumn, but, perverse as it might seem, it's good to be back. I think the perfection of the Austrian lake district might be too much to live with on a day to day basis. England seems a seedy, corrupt and thoughtlessly destructive place where vandals, developers and planners work ceaselessly to destroy the character of our communities and the habitats of our fellow creatures.

But it's home and I guess I love it - and, on rare occasions, sometimes hate it - for what it is.



Richard Bell,
wildlife illustrator
E-mail; 'richard@willowisland.co.uk'

Next page Previous page This day last year This month Nature Diary Home Page