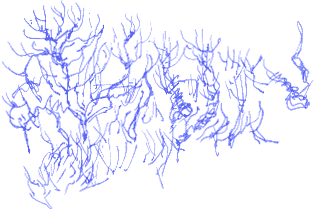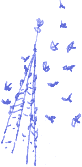 It was ducks dabbling on Saturday, goosanders swimming yesterday, and, today, it's a cormorant that we see at the bridge, flying up river high above the traffic.
Cathedral towns are noted for jackdaws and Wakefield is no exception: a flock of twenty or so circles, calling raucously, around the top of the spire, 247 feet above our heads. The bird is named for its 'jack!' call and that's appropriate because it's the funeral of John William Buckle, know to everyone as Jack Buckle (1915- 2005), that we're attending this afternoon.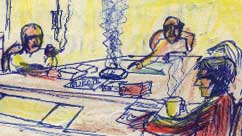 My memories of him date from the family holidays we took in the 1960s, the Buckles and the Bell's - 9 of us in total - travelling in a couple of cars to France and, on one grand tour lasting three weeks, as far as Rome. As Jack was an engineer by training he was a useful man to have with you on such a long haul. Between the wars, he'd made trips to Belgium and to Paris in an MG sports car.
The ballpoint pen and crayon drawing (left) is the only drawing of Jack that I can find at the moment. This is the scene, from my holiday journal, in the kitchen/dining room of our house on 12th July 1965 (so I'd be 14), as my dad, Jack (head of table) and the rest of us plan our trip to France.
The Road to Rocamadour
Our 1965 tour took in chateaux, cathedrals and the rock paintings of the caves of the Dordogne. I tried to visit all the paleolithic sites that I could around Les Eyzies, sometimes leaving the others to their picnic and walking off a few miles to the local show cave.
Rocamadour (left) also made a big impression on me, on the grey, rainy afternoon we visited it. If I remember rightly, I made a start on this ballpoint pen drawing from near the car park and continued it back at the hotel. I have a memory of trying to persuade my mum that everyone else should wait half an hour until I'd finished my drawing.
These trips have fed into my subsequent work and into my imagination in all sorts of ways.
The Thing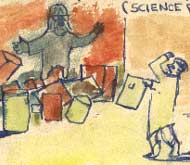 In 1963, on our return from Rome, Jack trusted my brother Bill and I with his wind-up cine camera (this was in the silent standard 8mm Kodachrome days). There was one side of the film, 2½ minutes, to use up. Bill and I spent a summer's day filming sight gags, trick photography and even fitted in two 30 second epics; a war film and a science fiction adventure, The Thing, starring my sister clumping around menacingly in black oilskins and sunglasses, her long dark hair combed forwards over her face. That's Bill, overacting as always, as the scientist who - if you saw the film - you would assume was trying desperately to come up with a more effective washing powder for lab coats.
At the service this afternoon, the vicar asked us to think of a few memories of Jack, and how he'd affected our lives. Well, there are a couple.

Richard Bell, richard@willowisland.co.uk