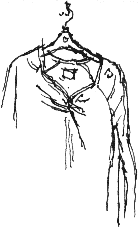 We're on the road with Rough Patch again today, calling at Ottakars and Waterstones in Huddersfield this morning. While we're in town, I find myself standing outside the changing room in Next waiting for Barbara to try on a kind of safari style short-sleeved blouse that will go with the shaggy waistcoast she's just knitted.

Later, after a quick tour of the art gallery, I'm sitting on a bench by the covered market thinking that I've had enough of drawing manmade objects. I'm just starting to relax by drawing the pigeons sitting on the stone ledges above some first floor windows when I hear Barbara shouting me. She's just ordered some samosas at the market then realised that I'd gone off with all our cash.
So the one pigeon is as far as I got.
a heidi original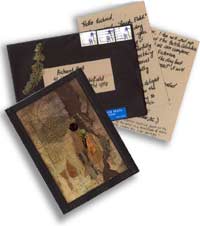 I love e-mail and I miss it when I'm away but it's also good to have real snail mail that you can open, read without looking at a computer screen and, in the case of this card from Heidi van Impe in Vancouver, stand it on the mantle piece. This card is so strikingly atmospheric, full of rich gold autumnal texture, that Barbara and I are intending to get it framed.
'The plastic-looking sheet on the front of the card is a thin flake of mica,' Heidi tells me, 'because I know you like geology!'
She thanks me for the copy of Rough Patch I'd despatched to her and remarks: 'The back-and-forthing between rough sketches and more carefully rendered images really reflects the whole feel of a garden where some areas are tended and some areas are wild.'

Link
slowconfusion.net work by Heidi van Impe
Richard Bell, richard@willowisland.co.uk