Slopes of Ingleborough (its head was in cloud) from Country Harvest near Ingleton, North Yorkshire, 11.45 am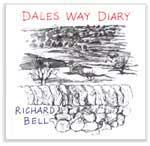 The last time we came to the Lake District, we made the journey on foot: 82 miles from Ilkley to Windermere (as described in my Sushi Sketchbook, left) . As we drive along the M6 today, I try to work out which of the footbridges we used to cross the motorway on our walk. That was an important landmark on our trek; at that point I felt as if we were leaving the Dales behind us and stepping into Cumbria, even though we'd crossed the county boundary back near Dent.
That night we stayed at the village of Burnside near Kendal, which, I was surprised to discover, is home to the biggest paper mill in the western hemisphere. They probably make a greater variety of paper there than in any other place in the world. Today, at the Rheged Visitor Centre we fill a box file with samples of A5 card of differenet textures, types and colours (£3.99, which seems very good value).

What I like about Rheged is the way the building disappears almost as soon as you walk away from it. It's covered in turf and the structure is disguised with artificial rock faces. This is the view from the cafeteria-style restaurant. You can sit with your coffee, overlooking a duck pond that laps right up to the window.

As we near Shap, what appears to be a huge bird of prey wheels over the hills. Its wings are slightly tilted upwards in a very shallow 'V'. I'm driving, so I don't see much of it, but Barbara says there are no wing patches and we wonder if it might be an eagle rather than a buzzard.

In a rather waterlogged wood near the lakeshore, two shallow-rooted trees have been blown over to leave a depression which has become a shallow, weedy pond. In a small patch of open water between the pondweeds, whirligig beetles are zuzzing about like high-speed ice hockey players. They live on the surface film - part of the eye looking beneath water, part above.

Link
Richard Bell, richard@willowisland.co.uk