Yarrow, drawn at Lake Myvatn,
Iceland, August 1974


Ash cone, Lake Myvatn


My tent at Lake Myvatn

Still in flower on the triangle of grass at the end of the road: yarrow, also known as milfoil, a plant of waste ground which I remember drawing in Iceland, near Lake Myvatn on a student field trip. That was a long way to go to draw yarrow.
From my Iceland sketchbook, August, 1974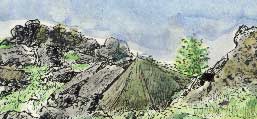 TUESDAY afternoon I arrived at Reykjahlia, the village at the North east end of the lake. Being short of Kronurs & not wanting to be kept awake by campers again I walked back along the road, through the shrubby birch wood and set up a base camp among the larva. A picturesque part of the larva field, well conlonized by grasses and a good variety of flowers . . .
(I drew Alpine Fleabane, Marsh Cranesbill, a Hawkweed, Elder-flowered Orchid, Grass of Parnassus and a stonecrop).
Several female Red Breasted Mergansers and young keep near the shore of the lake. I'd like to see one of the males. The difference between this female and the goosander is that this has less of a crest and doesn't show such a distinct contrast between light & dark on the head.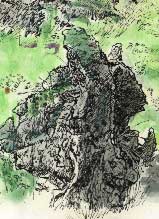 Harlequins are an Icelandic specialty. There are large family groups on the lake and I watched a family bobbing about precariously on the torrent that drains out at the south west corner.
Plenty of Redshank on the lake side - no spotted redshank here to confuse them with. Very noisy when disturbed they fly off showing their white tail and wingbar pattern.
The whooper swans whoop noisily out on the lake, a flock of 150 or so that shows up even from miles away as a white line on the lake. Plenty of Redwings and meadow pipits among the rocks, some of which perch on the tent. Bouncing flocks of Snow Buntings making their short warbling flight call make their way across the larva fields.
Ravens flap across honking.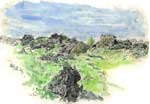 GYRFALCON I was very glad to get such a close view of this 'uncommon' falcon, flapping over the tent pursued by mobbing terns. The largest of the falcons 'found in open mountainous country.'

Richard Bell, richard@willowisland.co.uk