Before I kept this online version, I got into the habit of keeping a sketchy nature diary in an A5 page-a-day diary.

The viaduct with the 'fluffy flamingo clouds' dates from this week in 1996, from Thursday the 21st, a day when I gave a talk on Victorian naturalist and conservationist Charles Waterton, to a full house at the RSPB members group which was then held in the Unity Hall, Wakefield.
What are days for?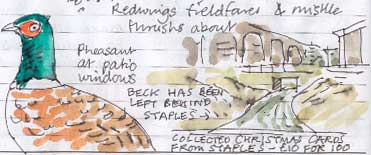 My theory was that every day I saw something, so, in order to develop my powers of observation and my understanding of the natural world, I should make a note of whatever struck me as noteworthy each day, no matter how trivial that might seem. What seemed important was the process of observing and recording, even in a rudimentary fashion.
Days were my raw material and if I didn't do anything with them, where else were my ideas and inspiration going to come from?
On Saturday 23rd, 1996, we called at Staples in Wakefield for our Christmas cards - a pen and ink drawing of Hartly Bank Wood, photocopied on card. I had a computer, an Amstrad 2386, and a monochrome bubblejet printer at the time but no scanner; those were the days when you were limited to clip art. Uggh!
Staples must have been fairly new too, because I commented that Balne Beck, which flows through the Cathedral Retail Park, had been left, un-culverted, behind it.
A Dabchick in the Snow
On this day, the 24th, in 1996, I sketched a dabchick on the river and snow settling on the riverbank. I invariably drew from memory when I wrote up my diary in the evening. Sketchbooks were another strand of my work.

Going back further, to 30 years ago, on Sunday the 23rd November 1975 I was walking back from a student play at Bretton Hall college when I met a ferret in the village. I bent down to say hello to it and it surprised me by running up my arm and, if I remember rightly, it nuzzled itself into my anorak before scampering off.

Pond Mural
Pond mural, acrylic on board, 1976
(colour a bit too chalky in the middle this print from a slide)

The day after this close encounter with the ferret I was working on a large painting of a pond - my first big commission after leaving college. According to my diary, my flatmate Jill, a graduate in painting from the Royal College, who had then just started teaching practice, came in, evidently feeling out of sorts, and took me to task over my progress on the painting. It was on an 8ft x 4ft piece of hardboard and I'd been working on it since August. It would take another 4 or 5 months to finish.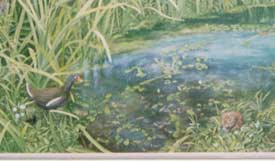 'It's ridiculous spending so long on a painting,' she told me, 'you're successful . . . from the point of view of making a living. But when are you going to get around to what you ought to be doing?'
That point seems as pertinent now as it did in 1975. When am I going to get around to what I ought to be doing?!
I painted all the wildlife - plants, pond life, animals, birds and butterflies - life size. I was influenced by Millais' Ophelia and perhaps a bit by Richard Dadd's The Fairy Feller's Master-Stroke in my efforts to show the teeming life of the pond and its surroundings. I'd made a number of detailed drawings down by the pond in the summer and I'd taken colour slides.
Ripples on a Pond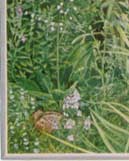 It was commissioned by a successful designer from London who, a year or two later, went to live in a country house near Oxford, taking the painting with him and hanging it over the mantlepiece. It's over 25 years since I last met him and I haven't seen the picture since.
Does my Pond Mural still exist? Could I arrange to see it again?
I feel as I imagine it would if I had a child who had gone out into the world and I hadn't seen hide nor hair of him for years.
What has become of my painting and, thinking of Jill's question, what has become of me? When am I going to get around to doing the work I ought to be doing? Do any of us ever manage that?
Since I wrote that, I have made some progress in tracking down the painting.

Richard Bell, richard@willowisland.co.uk