I haven't spotted any hen pheasants recently but there are two males in the garden this morning. They look so striking on top of our ivy-clad garden shed that I reach for the camera and take this through the kitchen window. I haven't started filling the seed hopper ground feeder as I did last year but one of these males spends much of the day pecking around for spilt seeds around the shepherd's crook feeder.
Horse by Moonlight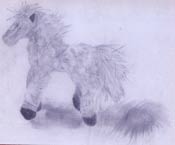 This drawing, Horse by Moonlight, of a stuffed toy is from a Christmas card by Cody (below) whose dad and mum (Andrea, right) are encouraging her keen interest in art.
As we are chatting, Andrea spots that I'm drawing and says, in a stage whisper, to Cody:
'Keep still now!'

Cody immediately freezes and looks at me out of the corner of her eye, gradually sliding down the wall she is resting against in her efforts to keep still. This doesn't make for a relaxed portrait but it adds a touch of drama and she reminds me of a character from a Harry Potter story, especially when I add a few dabs with my water brush and give her vampire-like blue lips!
The Christmas Story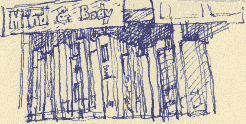 I'm here at Flanshaw library to present the prize for a Christmas story competition, which has been organised by Jill, the educational assistant at the library, to encourage children to get writing. I've stepped in at the last moment because Jill has gone down with glandular fever and can hardly talk.
Gemma, aged 8, has won the first prize with Caroli Eve's Christmas, a short story which looks at the true meaning of Christmas through the eyes of a pleasant, pious, little girl. Gemma uses the device of writing in red ink in the paragraphs where the story shifts to the first Christmas, starting, unusually for a children's Christmas Story, with the brilliant light of the Arch-angel Gabriel astonishing Mary at Annunciation.

Richard Bell, richard@willowisland.co.uk