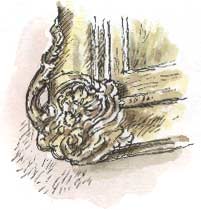 Really, I feel sorry for a painting that ends up in too grand a frame, I feel that it can be stifling for the poor old picture which is doing it's best to come to life while the message the frame gives is more like:
Hey! take a look at THIS (fanfare of trumpets)

This is Real Imitation Gold! - so the picture must be worth a bit, eh? A good investment for the true connoisseur.
And all the time the painting (this is the oil on canvas of the Peak District moor which I drew a week ago) is trying to get the viewer to step out of that set of values and take a stroll on a breezy moor where the only gold is a bloom or two on the spiky gorse bushes by the rushy pool.
But I can see the skill in the frame; the snake-skin scales on the moldings, the flourishes and shell in the corners, like fossils covered in Fool's Gold.
I'd like to see the painting in a lighter frame, I'm sure it would allow it to breathe more, but I have to admit that this old frame has become a part of the history of the painting and the canvas probably wouldn't now sit comfortably in anything else.

Goldfinch and Guest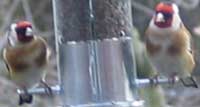 Word is spreading: we saw a single goldfinch at the feeder yesterday and at lunchtime today two appear and stay for a while, doing their damnedest to look stuffed in my photograph! (left) As they are - with niger seed - and flying away when the afternoon gloom triggers the flash on my camera (right). These are taken through the patio windows.
We went for the more solid, more expensive, thistle seed feeder as we've discovered over the years that bird feeders need to be robust. On it's pole this one reminds me of those garden lights, standing at knee level, that sit in the shrub beds outside Travel Lodges to guide guests down the path at night.

Richard Bell, richard@willowisland.co.uk