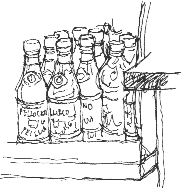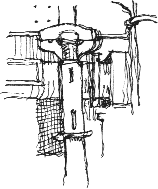 I seem to have measured out my life with coffee spoons recently but I like the new café at the at the Yorkshire Mill Village (Village? - it's a converted mill in Batley), which creates an island of continental sophistication amongst the racks of clothing, shoes and kitchen gadgets. My mum has brought us here for lunch as a thank you for taking her for her appointment this morning.
In the mill's Book Depot I come across a colourful book on the Austrian painter, architect and ecological thinker Hundertwasser (1928-2000) who, I'm ashamed to say, I hadn't come across before. It makes a change to find something unexpected amongst the usual tomes on Impressionism that you find in bargain bookshops (not that I don't like the Impressionists).
I can't help contrasting Hundertwasser's approach to architecture with our big local project, the proposed Barbara Hepworth Gallery on the south bank of the river in Wakefield
Motorway Restaurant, Bad Fischau

Architect: Hundertwasser

The Hepworth Gallery, Wakefield

Architect: David Chipperfield


© Kunst Haus Wein


© David Chipperfield Architects

Does this building make me smile: Yes
Does this building make me smile: Hmm, no
Keywords: wayward, individual, painterly, organic
Keywords: monumental, corporate, international, monolithic

If you saw it as you drove by?: I'd pull in for a coffee and a piece of apple strudel (there I go again!).

If you saw it as you drove by?: I might guess it was a building society's headquarters and drive on by.

New build v. redesign:

In 1986 Hundertwasser was asked to redesign the restaurant, which had been built in the seventies. The renovation was intended to attract more visitors and thus increase turnover. Before approaching him, the clients had negotiated with several other architects, whose designs, however, had entailed that the restaurant be torn down and a new one built. In contrast, Hundertwasser wanted to preserve the existing building fabric.

Adapted from: www.kunsthauswien.com

New build v. redesign:

Wakefield Council were disappointed recently when an application for a £7 million Heritage Lottery Fund grant towards funding the gallery was turned down.

HLF director Carole Souter said they were 'concerned about whether it would deliver sufficient heritage and public benefit and value for money' and explained that 'the trustees' heritage concerns mainly surrounded the fact that the project involved a significant amount of new build and this was a relatively low priority for the organisation.'

Adapted from: www.wakefieldexpress.co.uk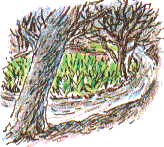 Is new build always the way to happiness? I like this quote from Hundertwasser:
A community should not consider it an honour how much spontaneous vegetation it destroys; it should rather be a point of honour for every community to protect as much of its natural landscape as possible. The brook, the river, the swamp, the riverside wetlands as they are, the way God created them, must be sacred and inviolable to us.

There Are No Evils in Nature.
There Are Only Evils of Man, May 1990
We could learn a lot from Hundertwasser, when you think what's happened to the stream, meadow and trees here and what's soon going to happen to the marsh between the canal and river. Our council seems besotted with new build and green field development at present.

Related Links
Richard Bell, richard@willowisland.co.uk