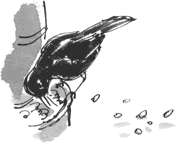 So! - it's the blackbird that's started strewing seed around the ground feeder. He uses the same flick of his yellow bill to toss the seed to one side as he would if he was sifting through a pile of dead leaves, looking for insect food.
All this seed doesn't go to waste: at 6 p.m. Barbara spots three mice running out to nibble it. I go out and sweep up the spilt grain and hang the feeder out of reach on the the hanging basket bracket.
Cyrtomium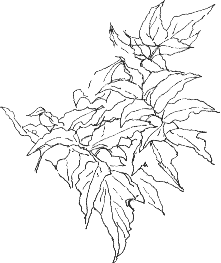 We plant up a basket with two ferns and a foliage plant, to sit on the hearth. One, a Dryopteris has typically fern-like fronds so I find the other, this Cyrtomium fortunei var. clivicola, more appealling to draw because of the simpler shapes.
The label explains that it's suitable for shade and semi-shade and a temperature of 15°C. It grows to 70 cm. We move the basket from the hearth when we turn the gas fire on.
The basket is lined with plastic so I put a layer of gravel at the bottom to try to prevent the roots becoming waterlogged.
While we were in the garden centre I grabbed a small bag of house plant compost but I'm sorry that I inadvertently went for a peat-based compost. Peat-free compost is generally clearly labeled but if a compost is based on peat they tend to keep quiet about it these days, at least on the front of the packet.
The only reason I'm not using home-made compost is that the nettles sprouting from it wouldn't look so good in a house plant arrangement. In the greenhouse - where I use home-made compost for growing tomatoes - I simply weed them out as they appear.

Richard Bell, richard@willowisland.co.uk