Milder weather, morning sun: a sparrow is carrying pampas grass in its beak. Two pied wagtails flit about, each with a roof to itself, on neighbours' houses across the road.
A wren hunts around the patio while three of our finches - greenfinch, goldfinch and chaffinch - visit the bird feeders.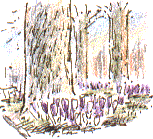 What has been scattering the seed from the ground feeder around? It's all over the place. Has a squirrel been going through it looking for sunflower seeds? Just in case it's a rat I sweep it up and make a point of hanging the feeder out of reach overnight.
Crocuses and daffodils provide welcome colour beneath the bare trees in Thornes Park.



Frogs are active again in the pond; they haven't been on the look-out for females during the colder spells we've had but even they make way for an enthusiastic blackbird bathing in the corner of the pond.

Richard Bell, richard@willowisland.co.uk