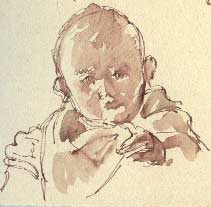 My new sketchbook is something of a work of art in itself so, as I finished my last sketchbook at the party last night, I'm determined to start it today, otherwise it will go in a drawer in the plan chest, waiting for a very special occasion, and it won't get used (like the sketchbooks I bought in Amsterdam in October).
This book was made by graphic designer, illustrator and educator, Roz Stendhal of Minneapolis who I'm looking forward to meeting, and spending a day drawing with, later this year.
'I know everyone is particular about their journaling habits,' she says, 'so if it's not usable for you . . . pass it along. But if you do use it know it's Magnani Annioni (sp.?) Designo paper which is sized for wet media; and colored pencil and gouache work great on it.'
Pass it along? Me? It's good to be faced with something different from the white cartridge paper I always use. Many thanks Roz.
Pen and Wash
The soft, parchment-coloured surface, makes me think of brush pen but, when drawing Alice (what better way could there be to start the new book?), I find that the thick black lines seem too bold for her rounded contours and her gentle disposition (she was on her best behaviour when our neighbours called around).

I find that my Rotring Art Pen with the fine sketch nib, which I keep loaded with brown ink cartridges, flows more smoothly on this surface than any other I've tried it on. With the sepia watercolour wash I think these drawings of little Alice have an old master look to them (no, I didn't say an old master level of skill, just that sepia wash look). My favourite is the one, above left, where she's looking right at me and holding out her hand with one of the refined quizzical gestures that babies of that age are so good at.

Related Link
Rozworks Roz Stendhal's artwork
Richard Bell, richard@willowisland.co.uk