No room to sit on the train, so I perch on a suitcase rack. All I can see to sketch is a letterbox-shaped sample of the trackside but as we go out of Wakefield I'm looking down an embankment so I can at least see

passing trees.
As we enter a cutting my slot of view is filled with

dull, rusty, dried bracken. I glimpse a

deep curving lane just after we pass under the motorway; a snapshot of a rural memory, hedged in by later highways. Gulls are sitting about on

a pasture not far from the White Rose shopping centre. We pass a

big half-timbered barn, still standing on its hillside between us and the morning traffic. Miniature daffodils on a landscaped mound bring an incongruous touch of Wordsworthian freshness as we approach Leeds City station.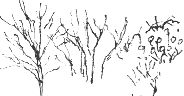 Radio Leeds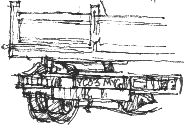 I'm in Leeds sooner than I thought so I've twenty minutes to sit in Starbuck's with a mug of chai latte. The elaborate towers of the Victorian Quarter are just in front of me, across Briggate, but they're too much for me to draw in the time I've got available so I try to settle to a quick sketch of the back of a truck. It doesn't turn out well but it helps me to wind down a little before my radio interview.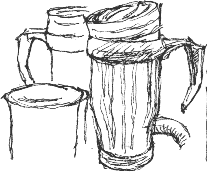 It's the first time that I've been to the new BBC Centre next to the West Yorkshire Playhouse. For the want of anything more interesting, I draw some coffee mugs as I wait to be the first guest on John Boyd's morning show. John has a glance through my sketchbook during the interview and I tell him how I'll be encouraging my students to draw at my workshops over the next couple of weeks by suggesting they could focus on particular things - like the mugs and the truck - rather than feel that they have to produce a big 'picture'.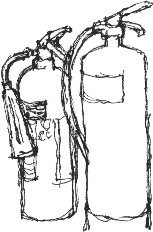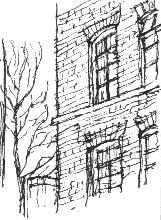 They've arranged for a taxi to take me home and as I wait in the open plan office it's the fire extinguishers that seem like the best thing to draw.
From reception there's a view of one of the mills that have been converted for office space in this arts quarter of the city. The Leeds College of Music is next door.

Richard Bell, richard@willowisland.co.uk