I've just started reading Harry Rand's biography of Hundertwasser (1928 - 2000), the Austrian artist, architect and ecological thinker. The artist remembers how, as a young artist in Paris, he would cycle out to a farm and, in exchange for a day's work, the farmer would give him a sack of ten kilos of wheat:
'I divided the wheat into portions and had a fantastic meal every day . . . I could have it ground; eat it as soup; make bread; bake bread cakes; make a salad.'

'How little you need to live. At that time I already had my philosophy. I said: how silly to always ask for more. The Communists, the Socialists, the unions - everybody is trying to get more, to get more money and more of what money can buy. What would happen if people instead of asking for more and more would ask for less and less? They would be happier, would be healthier, wouldn't eat rich food, they'd give up their cars for bicycles, grow vegetables in the garden, everyone would need less money - I think that would be an interesting experiment.'
Singing Steamers

In his paintings, as in his cooking, Hundertwasser puts together simple repeated elements to create something varied, surprising and sustaining. In his artwork and architecture he creates spaces where you feel you're being treated as human, rather than as a consuming machine. A place where you can feel a connection with nature, where your imagination isn't be crushed.


Detail, Singing Steamers (1)
watercolour and charcoal on crumpled wrapping paper (Hundertwasser once made a painting on a cement bag), St Mandé/Seine, probably May 1950.
In the Blink of an Eye
I've just finished reading In the Blink of an Eye, in which zoologist Andrew Parker describes the detective story that took him from the 'baked bean'-sized seed shrimps he was studying towards an explanation of the Cambrian explosion of life 543 million years ago.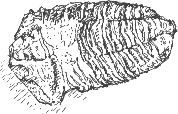 When I spotted it in W H Smith's at Manchester airport I decided this was my ideal holiday reading: 'a dazzling array of facts from optics, art history, zoology, geology and palaeontology', said The Guardian.
Needless to say, I'm completely convinced by Parker's argument that vision is a driving force - probably the driving force - behind evolution. Until a trilobite in the Cambrian seas developed focusing lenses in its eyes no creature had ever seen pictures of our planet.
Parker describes how the world changed for ever; it was as if, at the flick of a switch, the lights had been turned on.
They've stayed on ever since.

Richard Bell, richard@willowisland.co.uk