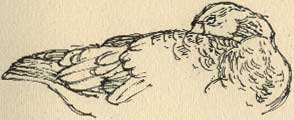 River Bure, Wroxham, 11.50 a.m.
A grey goose sits curled up, sleeping in the sun by the bridge. It starts, opens its eyes and looks around, slightly disorientated, as if it has just as if it had woken from a dream, then settles back to sleep. It isn't asleep for long: a dog barks from a boat and the whole group of geese gets up and slowly moves further away from the moorings.
A Foot in Both Worlds

You don't realise just how big swans are until one wanders up to you while you're sitting sketching, down on their level. Those webbed feet spread on the tarmac as if they belong to some visitor from a primeval world, and they are from another world; the swan can launch itself to explore the floating world of the river or take off and head for one of the broads over the riverside willows.
There's such a contrast between the white plumage and those heavy duty amphibious feet.
Going with the Flow


I find that I'm getting better results drawing these swans with my inky Rapidoliner on the Gutenberg paper than I did with the Staedtler (right). The Rapidoliner is more like a technical pen, with free-flowing (sometimes too free-flowing!) ink, while the Staedtler is what I'd call a fibre tip, with a flow controlled by the porosity of the fibre.

Richard Bell, richard@willowisland.co.uk