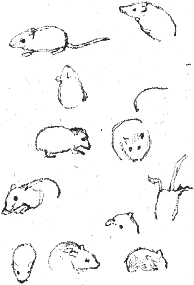 The harvest mice in the captive breeding programme at the Wildflower and Countryside Centre, Bayfield Estate, Holt, are always active. The tail is one and a quarter times the length of the body. The adults have a honey-coloured back and are greyish beneath. The young aren't much bigger than bumblebees.
They use an old tennis as a nest and there's a maze of burrows in the straw at the bottom of the cage. Tennis balls are also provided, fixed on posts amongst the tall grasses, in the meadow area as nesting sites for the wild population of harvest mice..


The centre's border collie comes and site on the bench between us, watching the harvest mice with wrapt attention, but not showing any signs of aggression - pouncing for example, or tensing up in preparation to pounce, as a cat might.

Richard Bell, richard@willowisland.co.uk