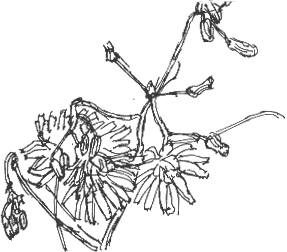 Chicory, is a tall weed of grassy and waste places. Its flowers are usually clear blue but the variety in our garden has pinkish lilac flowers. It would be ideal for my wild flower meadow area if it didn't have a habit of taking over. It's well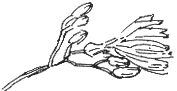 established behind the greenhouse and its roots have spread under the concrete path to meadow and into the greenhouse.
The roots have been used as a substitute for coffee.
The Way through the Woods
Police raids in connection with the London bombings have included two houses just a couple of miles from here in Thornhill; it seems that a Dewsbury man may have been one of the bombers. I can't work out how anybody can have so much disdain for human life but recent news stories from this part of West Yorkshire include:
Earlsheaton: a 12 year old girl charged with attempting to murder a 6 year old boy by hanging him from a tree in a woodland area near the village

Whitwood golf course, Castleford: a man accidentally shot his 12 year old nephew in the head with an air gun pellet, while lamping for rabbits but then drove the victim around for an hour and a half in his car, trying to find the boy's father in order to concoct a cover story. The boy will probably need continual care for the rest of his life

Coxley Woods: a man died after an accident cycling down a footpath and the police were concerned because they thought he might have run into an obstacle deliberately placed across the path.
To me there's a thread running through this, to do with selfishness and self-absorption. To me it's a matter of perception, or rather lack of perception, and I think of Orwell's words: 'Why don't people, instead of the idiocies they do spend their time on, just walk around looking at things?'
Guardians of the Meadow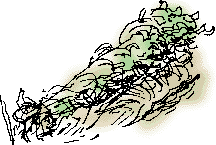 Not all news from the woods is so negative: at 6.30 this morning a bough fell off one of the old - 150 year old - ash trees by the stream at the entrance to the woods. These trees have shed their limbs with uncanny timing when the stream-side meadow has been threatened by development, memorably on the morning of the second (of three) public enquiries, when there was a terrific storm.
No storm this morning, it might be the heat and lack of rain that has stressed the old tree, but the development news has been good: yes, they're building 12 houses on the meadow but no, they're not building the bridge across the stream which would have had a permanent impact on the visual character of the area and probably on the stream-side wildlife too.

Richard Bell, richard@willowisland.co.uk