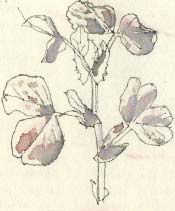 We've grown Kelvedon Wonder peas in 3 inch pots on the kitchen windowsill this year. Now that we've put so much work into getting the greenhouse ready for spring, we're intending to grow more crops in there.
Our idea is that the pea seedlings will grow in the raised bed we've constructed in the the greenhouse and crop before we need to plant our tomatoes and cucumber, which are invariably the only crops that get grown in there all year.
We're also growing a compact lettuce on the kitchen windowsill which we should be able to plant out in our unheated greenhouse, provided we cover them in fleece as a protection from frost.