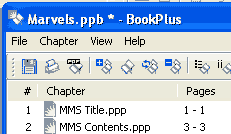 BookPlus is great for organising chapters in a book which are saved in separate PagePlus files. Move a chapter up the list and BookPlus renumbers the pages in the background. This is a tutorial from the PagePlus 11 Resource Guide.
The bank holiday gives me a perfect opportunity to take a leisurely run through the tutorials for my new desktop publishing software, PagePlus 11 . It doesn't feel like work as such, but the tutorial is giving me ideas for the structure and design of my book. For instance, using BookPlus (left), which comes as part of the program, I can split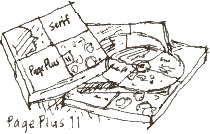 my 160 page sketchbook into bite-sized chapters -
Cavedale

the carvings at Hope church

waterfalls

wildlife by the reservoir . . . etc. etc.
The program then combines the chapters, works out the page numbering, synchronizes styles across the whole publication and even adds an index or a contents page if I decide that I want them. I'm still going to need to put a lot of thought into what goes into the index of course.
If I move chapters around (left) or add extra pages the program updates the page numbers automatically. Ultimately, I can publish the whole book as a PDF (portable document format) ready to send to my printers.

I've already tried uploading some sample PDF files to my new printers in Malta and they got the high res. proofs back to me the next day by courier. I prefer the PagePlus version of PDF to the slightly lighter toned PDF produced by my usual desktop publishing program, FreeHand.
But I'm still mystified as to why a grayscale image, published as a grayscale PDF by PagePlus should end up in CMYK colour. Hope I can work that one out . . .

Link
Free software from Serif; you can download and use PagePlus SE for free, but for me, I think the new version PagePlus 11 is worth paying out for. The 380 page colour Resource Guide that comes with it is a good way to thoroughly explore the possibilities of the program.
Richard Bell, richard@willowisland.co.uk