I'm surprised how many drawings I've got done in the last couple of weeks. It's grey and misty today so I'm happy to catch up with scanning - which takes most of the day - and to keep me company I listen to Danny Gregory's podcasts on all things creative. The first one I download, an interview with Jack Tea, Danny's son, is inspiring. Jack talks about how he set about writing his own story in the style of an African folk tale. And he tells it, from memory, with rhythm and expression.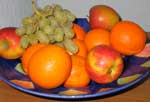 He, and Danny, make it all seem so simple. There are six or seven podcasts so far (see link below).
Fruit, veg and pudding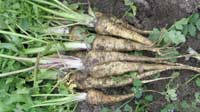 As I did no drawing today, here are few recent photographs. We get through a lot more fruit since we started using a juicer.
The parsnips (right) were a row that got left and forgotten in one of the veg beds so, when I was clearing it recently, I lifted them and they were fine for roasting and turning into soup. Well there were just one or two woody bits, I must admit. But not many.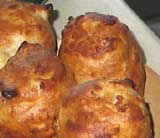 The new oven is doing well. Here are the first Yorkshire puddings Barbara has made in it. A good test for an oven.

Link
www.dannygregory.com podcasts, drawings and inspirational writing at Danny's Everyday Matters website.
Richard Bell, richard@willowisland.co.uk