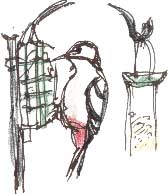 8 a.m.: What we think is a female great spotted woodpecker is feeding at the fat-block. The female has no red mark on the back of her head, and we couldn't see one on this bird. She has a red vent (the area between the legs), which the male has too. We haven't seen a woodpecker at the bird table for years. By the end of the day the fat is almost gone. I didn't see the woodpecker again though: starlings finished what little was left.

We find the 'insect treat' variety of fat-block, the one with mealworms in it, is the most popular with our birds.
While cutting the lawn this evening I disturb a dark olive frog. I'm glad to see it; we had no frogspawn in the pond this year so I'm glad we still have adults around.

Nibbled! I noticed last week that the cucumber plant in the greenhouse had collapsed. When they're young and tender they're vulnerable to slugs and snails which rasp away at the stem until the whole plant shrivels.
We've bought two replacements - one of which is a a dwarf cucumber - but we're growing those out of harm's way (I hope) up on the staging.

On Saturday night when we came back late, a garden snail had climbed onto the hedgehog boot cleaner on our doorstep. It must have been a prickly climb. This is the ultimate in cheekiness as the real hedgehog would probably have eaten the snail.

Richard Bell, richard@willowisland.co.uk