The latest Beany (issue #3), Michael Nobbs' drawing journal, arrives in the post today and this is his most expansive yet, subtitled 'In which Michael travels from Snowdon to Barcelona via Scotland, drinks plenty of tea and draws a bit . . . '
Danny Gregory and Dan Price are amongst the inspirations and influences on Michael's work but while Dan Price might put on his rucksack and set off for a 75 mile hobo-artist's trek through Hell's Canyon and Danny has been known to be kick-ass evangalistic about creativity, Michael's philosophy is summed up on this page, written as he prepares to set off for a few days holiday in Snowdonia staying in a comfortable hotel with his mum: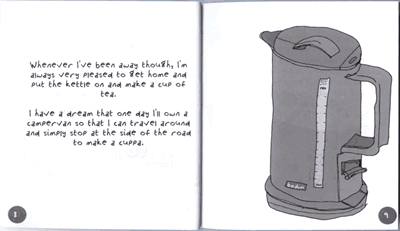 The Beany #3, copyright Michael Nobbs 2006
'Whenever I've been away though, I'm always very pleased to get home and put the kettle on and make a cup of tea.

I have a dream that one day I'll own a campervan so that I can travel around and simply stop at the side of the road to make a cuppa.'
It's a winning philosophy. The Beany is beautifully written with a gentle cadence while the drawings sparkle with humour and a relaxed kind of energy. Makes me want to pick up a pen and draw anything. Or should I just put on the kettle and make a cup of tea . . .
A Life of Magic


A Life of Magic, copyright John Welding 2006
I've also enjoyed reading John Welding's latest comic strip diary, A Life of Magic, recently. John has been busy recently with workshops, his website and commissions and the new approaches he's expermenting with spill over into the design of this issue. Sometimes there's a creative buzz about the workshops he leads (often with writer and poet Steve Way) but occasionally they can be tough going:
'I felt that the evening workshop didn't go so well, the teenage girls are busy being teenagers. It occured to me that in their world nothing else matters . . .

'Am I bovvered?' (says one of the teenagers)'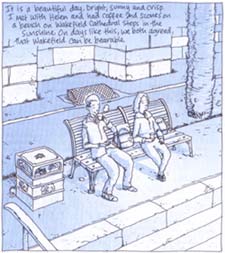 It's a chilling thought. Like Michael Nobbs, John celebrates simple pleasures:
'It's a beautiful, day, bright sunny and crisp. I met with Helen and had coffee and scones on a bench on Wakefield Cathedral steps in the sunshine. On days like this, we both agreed, that Wakefield can be bearable.'
Well, that might be going a bit far! But his book is a delight.

Links
Richard Bell, richard@willowisland.co.uk