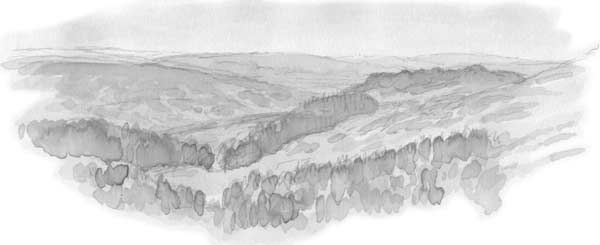 An overcast start but soon the sun burns through the mist and drawing becomes so much easier. One morning 4 weeks ago the hills were covered with snow, but today I can settle down to draw in comfort on the moors above Hathersage, with ravens, a merlin and of course frolicsome lambs for company. Bliss.
I passed by Carl Wark Iron Age hill fort (above, on the right) last autumn when I set out on my walk into the Peak District from Sheffield and after doing so many drawings at Ladybower I decided it was about time I came back here to draw.

This afternoon I set off home a different way, via a quiet back road I'd spotted on the map. I'd noticed a lay-by full of trucks below Stannage Edge this morning and taken it for some big civil engineering operation but as I drive by them on the return journey I see two young women in early Victorian costumes, with their hair in ringlets; they fit in with the timeless landscape better than the trucks and porta-cabins. It's like dipping back in time for a moment. I guess that they're filming a Brontë novel because Stannage Edge looks so much like the moors above Howarth but without the wind farm in the background.
Win Hill
The bulk of Win Hill with it's little peak on the top, like a party hat, looms ahead of me, backlit by the soft misty light. The lane I'm driving along, heading down to Ladybower is lined with beeches just coming into leaf.

Richard Bell, richard@willowisland.co.uk