Richard Bell's Wild West Yorkshire nature diary
Kingfishers

Monday, 15th January, 2007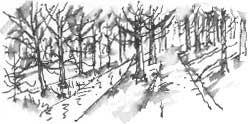 SUN AGAIN; we haven't seen much of it so far this year. Yesterday, as we passed Newmillerdam, people were taking advantage of the break in the wet, grey weather and cars were milling around the car park looking for spaces. We're lucky that we can spare half an hour for a walk on a weekday when it's so much quieter. Not as long as we'd like, but a small dose of woodland and lakeside makes a welcome break.


There's a flash of colour as a jay flies into a tree at the side of the path then a burst of even more intense colour - a deep, pure blue - as a kingfisher flies to a perch on a bush over the drainage channel beside the lake. A second kingfisher joins it and they dart off downstream.

The Crowman & his Dog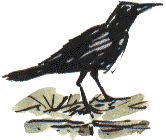 A man with a pied greyhound walks out of the wood by the stone bridge and along the track ahead of us. After 50 yards he stops and scatters a handful of breadcrumbs from a carrier bag.
As we walk along, not far behind, a crow flies down, gathers up a beakful of crumbs and flies back off into the treetops.
In another 50 yards, the man makes his next hand-out. There's already a crow waiting in the branches. Does the same crow that follow him right around the wood?