Richard Bell's Wild West Yorkshire nature diary
Sparradise Lost
Tuesday, 16th January, 2007
MY THANKS TO JO who has brought my photograph of house sparrows at the bird bath to life. The reflections seen in rippling water are uncannily realistic.

My apologies, if you're on a dial-up connection, that this slightly reduced version the animation so large. See it at the original size (308 K).
Where have all the Sparrows gone?
Looking at these characters again makes me realise how much I miss the sparrows. They're still around in the garden but these days they're outnumbered by goldfinches (right), not that I've got anything against goldfinches of course, but I remember when we'd have as many sparrows perching in the hedge - often 15 or more - always chirping to each other. The collective noun for goldfinches is a charm, they fly about in groups of several dozens, but they don't seem as social as sparrows. They don't seem to interact in the same way.
This morning I'm glad to see that there are at least four sparrows, so all is not lost and I'm also glad to see two greenfinches amongst the goldfinches. Greenfinch numbers seem to have gone down a bit, though they were never as plentiful as the goldfinches are now.
Cover Star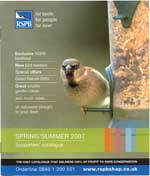 I notice that the RSPB is featuring a sparrow on its spring/summer Supporters' catalogue. That wouldn't have happened a few years ago; it would probably have been a more colourful species like blue tit or a robin.
Can I put out food specifically to encourage sparrows, now that the goldfinches, which I first attracted by putting out nyger seed, are firmly established?
The catalogue suggests that sunflower hearts are equally acceptable for sparrows and goldfinches but they describe black sunflower seeds - the sort that are still in their husks - as being most suitable for greenfinches and sparrows, which have bigger beaks than the goldfinch. Perhaps I should try filling one feeder with black sunflower, so that while the goldfinches are feasting on the sunflower hearts the sparrows will get a look in.
Nestbox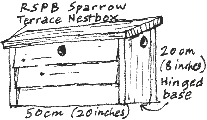 I'd like to put up a short row of sparrow nest boxes. They like to nest in small colonies. Here's the Sparrow Terrace Nestbox from the RSPB catalogue. It's thoughtfully designed, with a hinged base to allow cleaning at the end of the season without the bother of taking down the box, and it's made from FSC timber but at £22.99 plus delivery, it's rather expensive so surely I could make one myself?
But would I get around to it?