Saturday, 27th January, 2007


ON THE RIVER, on the new walk I described yesterday, Barbara and I spotted a goosander and a goldeneye. I've often seen goosanders fly up to this straighter, deeper stretch of river above the old, partially ruined, weir but until yesterday didn't realise that I could get up there and take a closer look.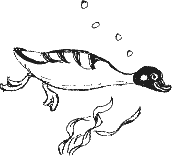 I think the goldeneye is my favourite duck; so neat and I like the male's head-nodding display. The mallard drake is more colourful of course but the goldeneye is sharper and more striking and it reminds me of wild places.

The sparrowhawk called in our garden as usual on his rounds and it was good to see long-tailed tits back again, at the feeder in the front garden.

My trainers aren't quite as long as they appear here; I changed viewpoint as I drew, changing the perspective halfway.