Richard Bell's Wild West Yorkshire nature diary
A Small Part of the Vista
Wednesday, 3rd January, 2007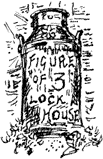 'I SOMETIMES FEEL that I don't do enough,' says a reader who is trying to get back into the sketching habit after a cataract operation in October, 'but looking at your work it makes me feel that what I do is OK.'
Hmm. Is that a backhanded compliment?! No;
'I don't really need to draw the whole vista !!' she explains.
Yes, I'd go along with that; I'm doing the drawings for the Storrs Hill walk for my booklet and out of the 80 photographs I took it's specific details such as this decorated milk churn at the Figure of 3 Lock House that appeal to me.
They work better in the format that I'm using. The broad vistas wouldn't fit in; there's a panorama of a broad curve of the Calder Valley from the top of Storrs Hill but unless I included a large fold-out in my booklet I'd be unable to do justice to it. For me it's the details - particular moments, easily overlooked corners - that give the valley its character.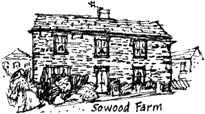 Sowood Farmhouse, on a sharp bend in the road between Ossett and Horbury near the crest of Storrs Hill, has a stone inscribed 'E M, 1689' above the door. It is a Grade II listed building.
Pepper-pot

And at last, a drawing in colour. Barbara and I called for a cappuccino at the Café Casbah this afternoon. It's ages since we've browsed around the Redbrick Mill (the café is on the first floor).
As I've been doing so many detailed pen and ink drawings recently I drew that classic drawing journallers' subject, the cruet, quickly with a Stædtler 0.5 mm pigment liner then added watercolour with my Pentel waterbrush.
Wonder if I could do my next walks book in colour?