Richard Bell's Wild West Yorkshire nature diary
Larks on the Sabbath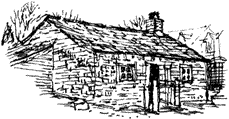 Tuesday, 2nd January, 2007
THIS MORNING I'm drawing (again from one of my photographs) this small stable store at Ossett Spa which I passed on the Lupset (right, below) walk that I devised for my booklet. The building was recently restored. As you'd guess from the chimney, it has a fireplace at one end. My guess is that it was originally built as a cottage.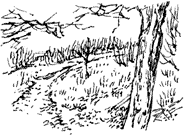 In a survey of the working conditions of local miners made in 1841 the inspectors describe whole families living in cottages no larger than this; mum and dad and perhaps 4 children (some of whom also worked in the colliery) lived in two small rooms. The report gives a rare look at the lives of ordinary people. The inspectors record the furniture and even the books - invariably a bible or prayer book - which they found in each house.
Joseph Charlesworth, a collier from Flockton came in for criticism:
'His house is rather close, the light and air being much impeded by the cages of six larks being hung in the small window.
'This person is a good and regular worker, but extremely negligent of his religious duties, spending the Sabbath smoking and feeding his birds.'
Joseph's house was even smaller than the Ossett Spa cottage; the 'House' (living room) was 6 x 4ft, the bedroom 5 x 3.5. He and his wife Anne had four children, aged from 3 to 9. The eldest, George was already working as a hurrier (carrying coal underground) and earning four shillings a week.
Victorian Postbox
I like to point out details of history and natural history along the way, although I won't be able to go into details in the context of a walks book.
I couldn't resist including this Victorian postbox which is a rare survival. It is built into the end wall of a house at Hall Cliffe, Horbury. I have vague memories of this house, Manor View, having been a corner shop in the 1960s.
Link: my booklet Coxley Valley includes a couple of pages on the 1841 report.