Richard Bell's Wild West Yorkshire nature diary
The ABC Steps

New Year's Day, Monday, 1st January, 2007
NEW DAY, new week, new year . . . and, although I don't do resolutions, I would like to keep up with the diary this year; so I might as well start now, rather than wait until later in the day to see what I might draw.
It's nearly 10 a.m., still pretty wild but there are blue skies and I'm glad to be settling down to work ; seems a much better way to start the year than nursing a hangover! My Four Walks Around Horbury really is coming together now and I'd like to get it finished and start on another project soon.

Fluffed-up Pheasant
9 a.m. A cock pheasant pecks at the ground below the bird feeder. He looks around, fluffs himself up, looks up again, puffs himself up some more . . . and some more until he looks like a magnificent football. If he goes on with this much longer there'll be a loud 'pop!' and nothing left but a few feathers floating back down to earth.

The reason for this display isn't to put off a predator; he's spotted a female pheasant who's approaching down the garden path. When she reaches the bird table the pair of them take off, the cock pheasant grockling (calling in a explosive sort of stutter) as he goes.
The all fluffed-up look still seems to work on the females.
The ABC Steps
These steps, by a lane between Thornes and Millfield Lagoons near Wakefield, get their name because there's one step for each letter of the alphabet. I believe that they were built to allow railway maintenance workers to climb up to the line which runs along an embankment here. There are one or two missing so when I tried them out the other day I only got as far as 'W'.
I did the drawing this afternoon from a photograph I'd taken as I walked the Millfield Lagoons route for my booklet.
Storrs Hill Map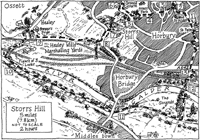 Meanwhile, on the Storrs Hill walk I'm at last satisfied with the map (right). I've tried using calligraphy pens for drawing and lettering but the effects, though clear, have been a bit too bold and strident for my liking.
For this version I've gone back to my Parker Reflex Pens - the pens that I almost always use for writing and often use for sketching. Even after a thorough cleaning my old calligraphy pens tended to clog while the new one I bought runs too freely.
So I've come full circle, back to my everyday way of working.