Richard Bell's Wild West Yorkshire nature diary
Hicksons Lakes
Wednesday, 27th December, 2006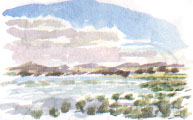 WE'RE EXPLORING a corner of the RSPB Fairburn Ings Reserve which we haven't visited before. At the Castleford end of the reserve there are two lagoons, Hicksons Lakes set amongst low rolling grassy hills . You see to your right as you drive north out of Castleford across the River Aire and along the line of the Roman Road.

We visited this corner about 20 years ago and I remember the whole landscape being unrelentingly grey because at that time they were dumping and bulldozing huge quantities of colliery waste (grey coal measures shale). The track that we walked over at that time was an expanse of glutinous mud. No wonder it's taken us twenty years to come back here. These two lakes themselves would be an attractive bird reserve but their importance is the way they link with the existing Fairburn Ings lagoon which has been a nature reserve since the 1960s and the RSPB reserve at Swillington which is now taking shape a few miles away.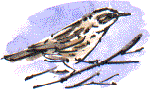 Remembering that muddy morass from the previous visit we're grateful for the newly surfaced all-weather path that takes you to a new hide (locked when we visited it). We can spend more time birdwatching and less picking our way through mud. There are fieldfares and redwings (left) in the old hedges and teal and heron on reedy backwaters.

We clock up a total of 49 species of birds as we walk around the entire reserve, 53 species if you include the black swan and other obvious escapes. None of them were exceptionally rare but it's good to see such a variety of regulars; greylag goose, lapwing, green woodpecker and skylark, for example.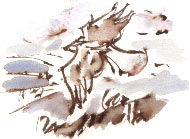 I also get the best view I've ever had of a kestrel hovering. It's only 20 yards from us, hovering at telegraph pole height over roadside plough-land. Through binoculars it fills the frame and in the low winter sun every feather is picked out, so that it looks like a shot from a wildlife documentary.
Hickson's Lakes are right opposite Hickson's chemical works. As we stand at the riverside there's an urgent trill of alarm bells and the announcement: 'Toxic gas alert! There has been an escape of toxic gas. All personnel must report to designated shelters.'

The wildlife paradise that is the Aire Valley; take a deep breath and enjoy it while you can. What is that smell? Coal, sulphur or bitter almonds? The cows grazing next to the factory seem to be fine.
Bird List, Fairburn Ings, 27/12/06

My thanks to John Summerscales (left, I'm sure we'd see more birds if he didn't wear that hat!) who compiled this list. John tells me, from his previous records, that this was our best day's birdwatching since 1993, when on the same day, again at Fairburn, we spotted the same number of species; 49 in total.

| | | | | |
| --- | --- | --- | --- | --- |
| Blackbird | Gadwall | Kestrel | Redwing | Teal |
| Bunting, reed | Goldeneye | Lapwing | Robin | Tit, blue |
| Chaffinch | Goosander | Magpie | Shelduck | Tit, great |
| Coot | Goose, Canada | Mallard | Shoveller | Tit, long-tailed |
| Cormorant | Goose, greylag | Moorhen | Skylark | Tit, willow |
| Crow, carrion | Grebe, great crested | Pheasant | Sparrow, tree | Wagtail, pied |
| Duck, ruddy | Greenfinch | Pigeon, fantail | Sparrowhawk | Widgeon |
| Duck, tufted | Gull, black-headed | Pigeon, wood | Starling | Woodpecker, green |
| Dunnock | Heron, grey | Pintail | Swan, black | Wren |
| Fieldfare | Jackdaw | Pochard | Swan, mute | |
Link: RSPB Fairburn Ings