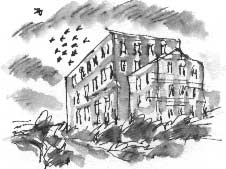 A FLOCK OF PIGEONS wheels around, spooked by a sparrowhawk that flies over the old derelict brick-built mill by the River Aire a mile downstream from Leeds city centre. The window openings of the mill are covered with black mesh to discourage the pigeons from taking over.
Buddleia is turning the strip of tarmac in front of the mill into a wayward shrubbery. Large bushes grow in rows along the cracks at the edges of the road, along with mugwort, a tall weed of waste places and the odd plant of valerian, just clinging on to its pink flowers, which frequently colonises old walls.


This riverside walk is our favourite way into Leeds and some day I hope we'll get to try the towpath walk that would take us back out of town in the direction of Keighley. We catch the odd glimpse of brown rats scurrying into the lush Himalayan balsam alongside the path. In the path's sandy surface near the Royal Armouries there are horse shoe prints, possibly those of one of the war horses used in the re-enactments of jousting here.