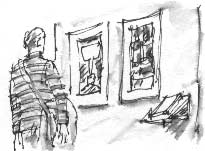 AT THE EXHIBITION Cult Fiction, Comic Art at Leeds Art Gallery, it's surprising just how large the original artwork is. Robert Crumb, for instance, had used paper the size of a broadsheet newspaper for a story that was reproduced at the normal, approximately A4, format for American comics. The final version was available to browse through on a stand next to the original.
Much of the artwork in the show has a crisp, graphic look, even before it is reduced to production size. One French strip is done entirely in silhouettes. Although the originals are eye-catching, the printed version of each comic remains the most compelling way to view the stories. Isolated spreads, however impressive, don't really convey the medium of comic strips. It's like displaying one page from a novel or a Shakespeare play.

Anglesey to Walney
I didn't get out sketching today; these wavering sketches of waders were drawn in a darkened room as Charlie Owen gave a talk, From Anglesey to Walney, at Wakefield Naturalists' Society this evening. Anyone who has tried the exercises in Betty Edwards' Drawing on the Right Side of the Brain will be familiar with the technique of blind contour drawing where you don't look at the page but concentrate on the subject. I could see well enough to find a space for the next drawing but that was the limit of what I could see of the page. There were plenty of slides, so I didn't have much time for each sketch.
I liked the insights that Charlie Owen gave on the changing habitats along this north west coast, which he has observed and photographed since the 1970s. Some expanses of the gleaming mud that he shows us are now green with Spartina grass; what were sandy hollows have been colonised by bushes and wild flowers while, in contrast, not far from the RSPB's Leighton Moss reserve, the foreshore of some low limestone cliffs topped with windswept woodland, has had its saltmarsh stripped away by the shifting currents of the estuary.