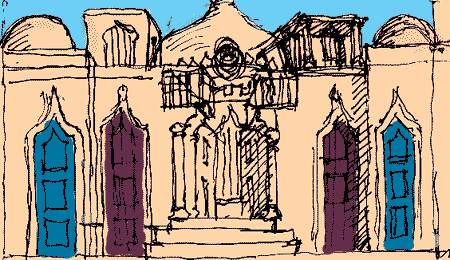 Hover your mouse over the sketch to see what was on the backdrop last year.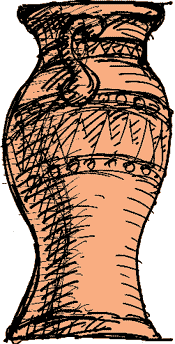 Last year's Caliph's palace gets revamped as the market place. I always feel that, having gone to all that effort to set out the structure of a scene on the backdrop, I should adapt it rather than obliterate it, but it takes all day tinkering about, re-painting little sections here and there, so it would probably have been quicker to start afresh.
The four doors are there because of a piece of business in the script. But this is a canvas backdrop so don't expect them to open. We need to use a bit of theatrical make-believe in this scene.
In Arabian Nights tradition, the Thieves get themselves smuggled into the Palace in oil jars. Here's my attempt (right) to give the hardboard cut-out a three-dimensional look.
It should be a good show - a real pantomime, so I'm told - and it will literarily bring the house down because the old school hall, built in the 1960s with a projected 25 year life span, is scheduled for demolition in April. This will be the last ever production.