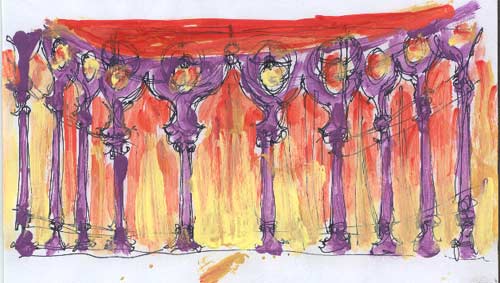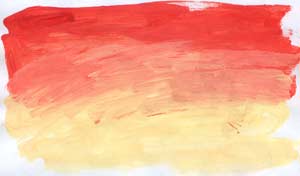 THE SHEIKH'S PALACE backdrop, has had quite a history (see below) so we painted out the previous version with a light, sandy coloured emulsion and, once that had dried, set about rollering bands of red, orange and yellow, blending them with brushes to give a sunset effect, as in my sketch (left).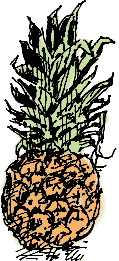 I say 'we', but actually it was Danny and Ken who did the blending while I painted oil jars and bottles for a kitchen scene. I'm trying to make the most of my small team by planning ahead and dividing the job into blocks that they can be filling in while I sketch out the next stage. I even did a bit of paint-by-numbers for Danny this morning, marking the shadowed areas 'B' for brown on a rooftop structure in the market scene.
Team work requires more planning than working on my own, but it's a whole lot quicker and I could learn from the experience by trying to get more of a grip on strategy in my own work.
From Sketch to Scene
I drew the palace (above) with fine end of my double-tipped Sharpie pen, then added colour from the cans of emulsion that we'll been using. Next weekend, we'll paint the pillars in front of the sunset background and then there will just be a desert scene to do. We'll have painted 720 square feet of scenery in a couple of weekends.
After a day painting it was back to Barbara's mum's for a chicken dinner followed by a Panamanian pineapple (another Sharpie drawing, coloured in Photoshop) and ice cream.
The Same Backdrop, this time last year . . .

| | | |
| --- | --- | --- |
| | | |
| Three years ago: Palace of the Queen of Spades (not Hearts!) | Two years ago: Cinderella's kitchen | Last year: the Old Bazaar in Cairo |