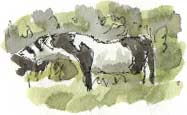 4 p.m.: After a damp, dismal wintry day, even such light as we've had is beginning to fade so I decide to make what I can of it and draw whatever I can see from my window during the next hour. Half hidden by the hedge and standing one in front of the other, the three Welsh ponies are little more than pied patterns in the corner of the field.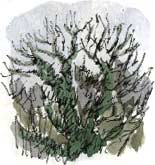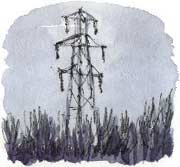 I draw in fibre tip then add watercolour from the larger White Nights box that I keep in the studio. Instead of mixing primaries, as I do when I'm using the smaller selection of colours in my pocket box, I simply go for the nearest colour and adjust as appropriate. This means Paynes Grey, olive green and sepia for the trees and Paynes Grey plus a touch of indigo and madder lake light for the leaden sky.

The grey sky gets bluer as the light fades and the street lamps on Netherton Hill start to show through the bare branches.
I pull the blind and draw my hand lens instead. The string - pink in case I misplace it when I'm out - is for hanging it around my neck.