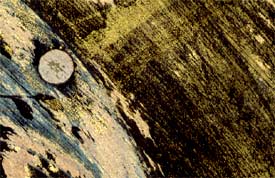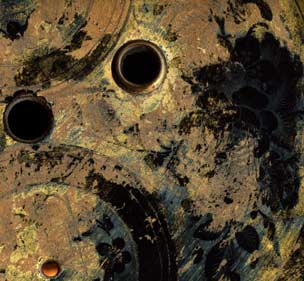 PATINA OR PRACTICALITY? What looks to me like an expressionist view of a moon in transit over a planet (left) is in fact a small portion of a clock-face that has seen better days. It's from a Scottish drumhead grandfather clock, which has a rounded top, unlike the more familiar arch-top grandfather.
The clock-face, in brassily-coated iron with floral embellishments, was in poor condition but an attempt to remove the varnish with methylated spirits resulted in the paint being partially dissolved and the brassy surface blackened.
For me, wear and tear, like the marks around the hole where you wind up the mechanism (right), are part of what gives an old clock its character but the owner, who has already restored the cabinet and mechanism, now wants to repaint it altogether.
Time Traveller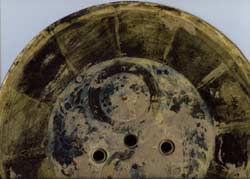 In a Sherlock Holmes story, the detective deduces the decline in circumstances of the owner of a pocket watch by observing the marks on it - drunken attempts to wind it up, pawnbroker's marks and so on. I feel that I'd be wiping out part of the clock's history if I repainted it, part of what it has to tell us of its journey through time.
Besides, I feel that my lettering is too shaky for such a prestigious timepiece.
The circles around the edge of the dial are inscribed into the metal although the inset seconds and date dials don't appear to have been.

Face Painting
Last night, I found myself trying to work out how you might paint a clock-face. This morning, I took the lid of a can from the recycling, sanded it lightly and painted it with acrylic primer (left).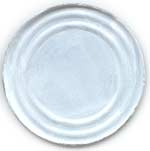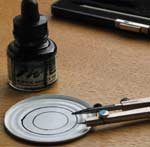 When that was dry I added a coat of white acrylic paint (left). Two coats would have been better, but this is just an experiment.
When that was dry, I used a pair of compasses which can be fitted with a ruling pen, to draw two circles in black acrylic ink (right). The compasses slipped on the metal, hence the blotchy line.

Numerals
Finally I added the numerals using the fine point of the Sharpie marker pen, which is supposed to be permanent on almost any surface.
As I thought, my lettering is too shaky for a clock, although I was working on rather a small disc here.