THE REASON that I tried the double-ended Sharpie marker pen recently was because Elaine in Alderson's, the office supplies shop in Horbury, had said a local comic strip artist had raved about them.
I hadn't met him before but he was in the store photocopying his latest drawings when I called in this afternoon; Mooneyman, to give him his pen-name, is the artist who in 2002 created Professor Percival Pigface, the accident-prone inventor of the Giant Robot Folly-Building Chicken (Patent Pending) and the Easter Egg-Eating Machine.
The comic archive on his website, Professor Pigface's Lab is a course in cartooning, from line-only strips through marker pen to Photoshop-coloured experiments; from edgy handwriting to gaudy comic strip capitals; from incident-packed epics to full page gags.
Mooneyman is a fan of Beano and Gorillaz, so, while there's plenty of slapstick, the characters and their interactions are developing too. There's a touch of surrealism with computer1993 'a cruel, virus ridden computer from sometime a long time ago' who hates Pigface, and is forever insulting him.
One of the strips speculates on how it must hurt cartoon characters if you draw with a 2H pencil.
Drawing Birds from Memory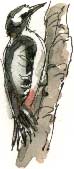 Our neighbours have constructed a conservatory at the back of their house and I can see how useful it would be; it would make a great bird hide. As it is, we tend to see birds only when we're sitting at the dining table, particularly at breakfast time.
This morning a great spotted woodpecker spends some minutes investigating the bark of our neighbours' stagshorn summack and later a grey wagtail makes its way around the rim of the birdbath on our patio, pecking at the edge of the water not, apparently, drinking but probably picking off small insects that were trapped there.
It's an interesting exercise to draw birds like these from memory in the evening. I painted black on the back of the woodpecker and thought no, that's not right, then I reached for the bird book and discovered that I'd omitted the white patches on its wings. As I'd painted the black, not shaded it with my fibre tip pen, I was able to blot out a white patch.
It's a way of learning what to look for in bird plumage. Hopefully I'll take in more next time I see either of these birds.
Covey, Cob & Pen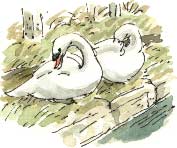 Near the post by the canal where the storks attempted to nest a few years ago, two mute swans (cob & pen = male & female) are sitting preening, taking up most of the towpath.
The birds crossing the cricket square at Netherton Cricket Club have an unfamiliar appearance; they're grey partridge but we don't often see them like this. They're wary birds and we usually see them flying off away from us. These were surreptitiously crossing the playing field. Perhaps as it was so wet they were finding it easier to feed here on the short turf rather than amongst the tall grasses and rough edges of fields and hedges where you'd normally see them.
Covey: collective noun for partridges.