Richard Bell's Wild West Yorkshire nature diary
Mapping Pens
Thursday, 1st February, 2007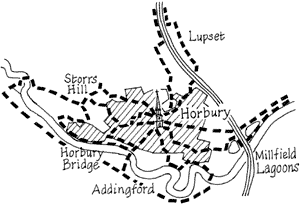 JUST AS I ENDED up using pen and paper instead of a 3D design program to plan out the garden, I'm coming around to using to the simplest possible approach to artwork for my booklet. I've just done the final map, for the back cover and I think that calligraphy nibs will help me get the clear,

graphic, but homely, friendly, quality that I have in mind - like the map in The Lord of the Rings.
I've just ordered the fine calligraphy and the medium lettering Rotring Art Pens.

While I was ordering it I took another good look through the Great Art Catalogue to see if they'd come up with a non-clogging waterproof Indian ink but no sign of it yet.
Years ago I had a pen, an Osmiroid if I remember rightly, that claimed to be suitable for Indian ink. It had some kind of tool with it for cleaning the nib, but I don't remember using it much. It didn't give the fine line that I wanted at that time and if it's still in the back of my drawer it's probably hopelessly clogged now.


I'm afraid that this calligraphy pen, a bit of a bargain which I bought recently, proved too eratic; it ran too freely producing a blotty line. The Rotring might cost two or three times as much but I've used them with no real problems for years.


I used my Parker Reflex on the map above with an old Osmiroid B4 (left) for the dotted lines. As far as I know the Osmiroid fountain pen is no longer available. I have to keep dipping this one in Calligraphy ink to keep it flowing.
A mapping pen is a small pen with a fine flexible nib; not what I need for the maps I have in mind.