Richard Bell's Wild West Yorkshire nature diary
All You Need is Glove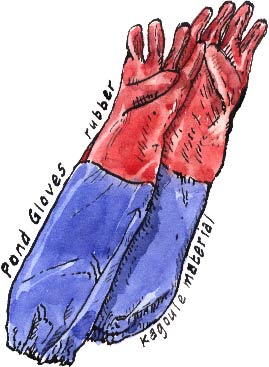 Friday, 2nd February, 2007
IT'S JUST AS WELL that I cleared out the pond on Monday because this morning it's frozen over. These are the long Pond Gloves that I used.
Paul the Gardener is back with us this morning. After all the planning we're taking up some of the veg bed edges and cutting them to the new sizes. We start by converting the four 4ft x 11ft beds into two L-shapes; that's not too difficult but the new zig-zag bed that dove-tails with them takes more thinking about because there are so many variables, such as width of paths and width of the new bed that we can improvise with. The plan I drew wasn't to scale and you have to experience the space on the ground to get things to fit in a satisfying way.

As the path by the hedge is the shadiest part of the garden, the least suitable for growing vegetables, I'm making that the widest. I try steering the wheelbarrow past the greenhouse to see how much turning space I need there. I decide to cut the corners on the bed nearest the hedge to give adequate turning space. I wouldn't want to catch the greenhouse with the barrow as I negotiate the bend. I broke two panes in the greenhouse trying to remove a cucumber that had started growing behind an aluminum strut and they cost £8.40 to replace. That was an expensive cucumber.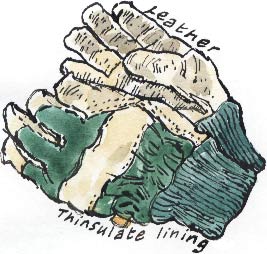 With ice on the pond and any soil in the shade still frozen solid I appreciate these new Briers Country Worker gloves. They prove to be thorn-proof when dealing with the trimmings from our hawthorn hedge, they've got a warm Thinsulate lining but they've got good dexterity too; my thick leather gauntlets make it impossible to manipulate small objects.