Richard Bell's Wild West Yorkshire nature diary
Cutting Corners
Saturday, 3rd February, 2007
SINCE WE WORKED in the garden yesterday there's been another goldfinch casualty; a scattering of feathers in the corner by the greenhouse shows that the sparrowhawk has struck again.

I'm working on my own this morning and I slow down to my natural pace of work, spending a lot time thinking as I cut the timber to go around the greenhouse. I realise that I can avoid cutting into the new lengths by using two of the short ends of beds we've removed on the corners. I measure, measure again, then measure one more time before cutting my remaining longer lengths of treated timber. I'm delighted when one off-cut turns out to be just the right length to fit in the next space I have to fill in front of the greenhouse.

How often does that happen?
Woodchip v. Paving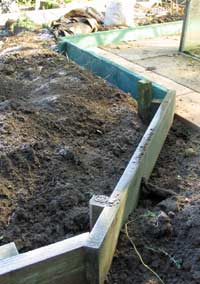 We're going to put down woodchip on most of the paths. Woodchip needs topping up after a year or two but if we change our minds about a path it's easy to move it.
We went for small paving slabs to widen the concrete path in front of the greenhouse; I don't want a ridge when I'm wheeling the barrow over the join, which is what I'd get if I took the woodchip right up to the concrete. We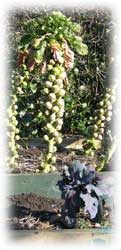 spread a layer of sand mixed with some left-over cement to bed down the slabs.
Having the timber edging abutting the slabs will stop them moving about. We might go for paving alongside the hedge; it will be more expensive but that's one path I don't see us moving. The paving will make things easier when we cut the hedge; we can just sweep up the trimmings. It's awkward raking them up from woodchip so I usually lay down an old shower curtain as I trim.
Somehow the Brussels Sprouts, the one crop we currently have in the veg beds, have ended up sitting neatly in one end of one of the L-shaped beds. The remains of the red cabbage are growing on what will be a path.