Richard Bell's Wild West Yorkshire nature diary
Nan-King Ink
Tuesday, 20th February, 2007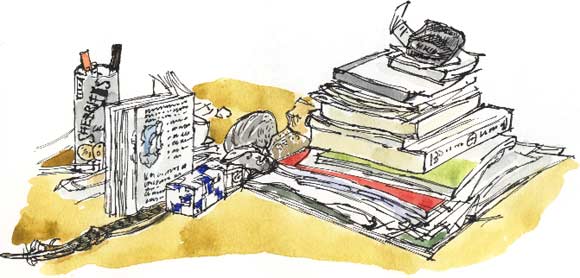 I'VE BEEN PRINTING my new booklet Walks around Horbury here in the studio and catching up on some of my other little local booklets (such as Malham Magic on the left by the pheasant feather; the Field Studies Council at Malham Tarn have just ordered a batch as the new season starts).
I've been trying out Nan-King Ink (box, centre) which, despite being described as Chinese Indian Ink is actually made in France by Lefranc & Bourgeois. It works fine with a dip pen, but of course it would clog up a fountain pen and, as you can see, it's waterproof so you can add a wash of watercolour to the drawing once the ink is dry. The Great Art catalogue suggests that it's suitable 'for writing or for grounding, for scraping techniques or diluted with water to produce brush drawings in a warm grey shade'.
They say that it's lightproof and that it doesn't drip and, that seems to be true; I haven't had any drips in the drawings I've done with it so far.