Richard Bell's Wild West Yorkshire nature diary
Normanton Churchyard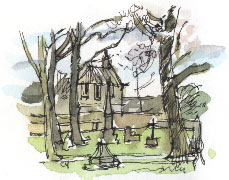 Monday, 26th February, 2007
HERE'S MY FIRST try at working out on location with Noodler's Ink (see yesterday's page) and watercolours. This is the most compact sketching set-up you could want; one foutain pen, one waterbrush, one small box of watercolours.
While Barbara is at an appointment in Normanton, I find my way to the old parish church and, as there's a cold wind blowing, I shelter at the side of the porch and draw the churchyard in front of me. The substantial stone-built house, which is empty and roofless, reminds me of the sober, solid buildings you see in towns in East Lothian. They often overlook old secret gardens, rather like this one overlooks the churchyard. And they sometimes have a mysterious air of emptiness about them, as if they've got some secret.
There's a large, half-timbered, stone-roofed house behind it, which I'm glad to say is in good order. I'll try and draw it next time I'm here.

Even though I've brought a flask of coffee with me, the cold wind is too much for me but as the Noodler's ink dries so quickly I'm able to get this little sketch done in not much more than ten minutes. Look forward to trying this combination again.