Richard Bell's Wild West Yorkshire nature diary
New Specs
Saturday, 17th March, 2007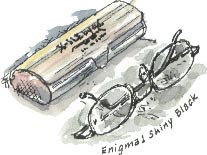 NEW GLASSES: and with these I can clearly read the half a millimetre high white on black capitals on the face of my watch with reassure me 'WATER 100m RESIST'.
I'm hoping that matching my glasses to the prescription from my most recent eye test will help reduce the frequency of migraine-type symptoms I have. Each eye is slightly different so it's makes sense to have lenses fitted to match each eye, rather than use ready-made glasses, which is what I started with 10 years ago. They've now been donated to a charity.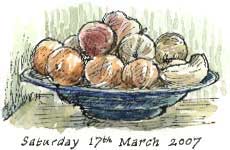 But I think the headaches are due to stress as much as eye-strain. Stress brought about by trying to fit too much into my life and worrying about damage to the natural environment that I can do nothing about. I lie awake at night planning not just letters of protest but whole booklets that I'd like to publish to campaign against the destruction we see around us here in West Yorkshire. And it's not just the destruction that troubles me, it's the injustice, the corrupt way it's done.
But in the cold light of morning, I realise that I can do very little to help save the planet. At least new glasses are an improvement to my well-being that I can easily make.

The opticians were doing an offer on a second pair and I had those tinted because I think they might be useful when I'm drawing on a sunny day, to counteract the glare of the paper as well as to protect my eyes from ultraviolet light.
I kept up my new idea of spending half an hour in the garden again today, finishing digging over the new 'Z'-shaped bed. It's good to get back down to earth.