Richard Bell's Wild West Yorkshire nature diary
Party People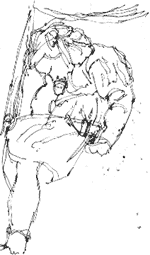 Sunday, 25th March, 2007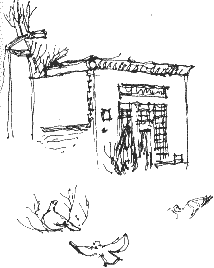 The façade in Portland Stone of the Yorkshire Bank, Chapel Allerton, north Leeds, is in Art Deco Egyptian style, probably dating from the 1930s. We're at a christening party at Angel Share, a restaurant/bar opposite the bank, on what these days feels like a continental corner of a suburban high street, with Italian restaurants spilling onto a broad pavement under the kind of plastic canopies that remind me of Paris or Mallorca.
This afternoon the children are lively (pestering me to allow them to draw something in my sketchbook; when will I learn to carry a few spare sketchbooks at family gatherings?) but the toddler in her pushchair (right) was sleeping soundly through all the noise at last night's Ruby Wedding Anniversary party.
The Shooting Party
The man on the right is a veteran of the Korean War but it's the chap on the left who has gunshot wounds (I'll omit names, to spare embarrassment); he'd been at a pheasant shoot, forty yards from the next gun – his dad. They were in a small valley so his dad was aiming up into the air one minute, then when he swung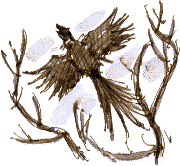 around he was inadvertently firing up the slope.
They continued with the shoot and left the hospital visit (for the removal of a dozen or more pieces of lead shot) until later.
I'll stick to bird-watching; much safer.
The Boy who asked for More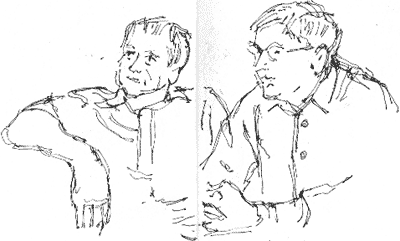 Another story from another guest (who I didn't sketch): 60 years ago, as a young boy, he caught scarlet fever. He was sent to an isolation hospital in a distant part of the West Riding of Yorkshire and, on his first night there, the evening meal was a kind of thin stew of oatmeal in gravy. He realised later that it must have been gruel.
Still hungry, he asked if he could have some more.
The matron was told and she went to the fireplace, picked up the poker, and gave him six whacks on the backside.
It's the kind of discipline you might have expected in the Dickensian era a hundred years earlier.